Really pleased to welcome fabulous teen blogger Georgia to the blog today for Indie Advent, to talk about a shop which is very high on my 'must visit' list!
For my blog post on the Indie Advent, I've chosen to write about The Bookseller Crow, which is a really gorgeous indie bookshop in Crystal Palace, which you can find on Westow St.
Bookseller Crow's 'about' page on their website starts with: "Taking its name not just from a handy surname but also from the presence of the arrogant, curious and intelligent birds that scavenge prolifically in Crystal Palace park and thereabouts, the shop perched atop one of the many local hills was established in 1997." Which I read when checking their website for this blog post. And it couldn't be more accurate: Bookseller Crow is perched atop a hill, and is full of curious and clever fiction for anybody and everybody.
I've only actually visited Bookseller Crow a handful of times, as though I'm not ridiculously far away, I'm not often in Crystal Palace. However, it's a
beautiful
store, and I recommend anyone who might be nearby for any reason to give it a visit.
The store's owner, Jonathan, is really great In Real Life and on Twitter, and I know he's always giving out the best recommendations to everybody.
It's
one of the cosiest, prettiest book-stores
I've been to. I love seeing the gorgeous window displays, and the bookshelves are always jam-packed with the most brilliant new titles. Not only does Bookseller Crow have the best pick of titles, but there's also merchandise you can buy to support the store, like the T Shirts with crows that hang in the windows: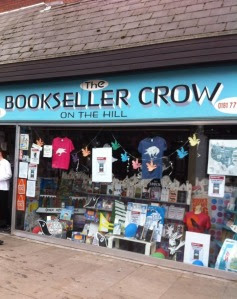 Most recently, I was there for a book event.
Jessie Burton, author of the Miniaturist
, did a reading and a chat about her début novel. It was a really fun event and I know that Bookseller Crow has an amazing events schedule all throughout the year; including local talent like Alex Milway, a children's author whose books I adore. There's also a great book group there too, which I've read about a lot online but am yet to join - maybe in the new year I will!
Though I'm not sure I'll actually be able to visit again before Christmas, the books I'd buy from Bookseller Crow to give as Christmas presents would definitely be Phil Earle titles. Earle is a fantastic Children's & Teen's contemporary fiction author, who is also pretty local to the shop (Every time I've been in there, the Phil Earle books are signed, too!:D). He's written titles including Heroic, Being Billy & The Bubble Wrap Boy.
Thank you for a brilliant post, Georgia! Check out Crow on the Hill's
website
and Jonathan's superb
Twitter account
, and make sure you read Georgia's excellent
blog
and
Tumblr
, and follow her on
Twitter
.